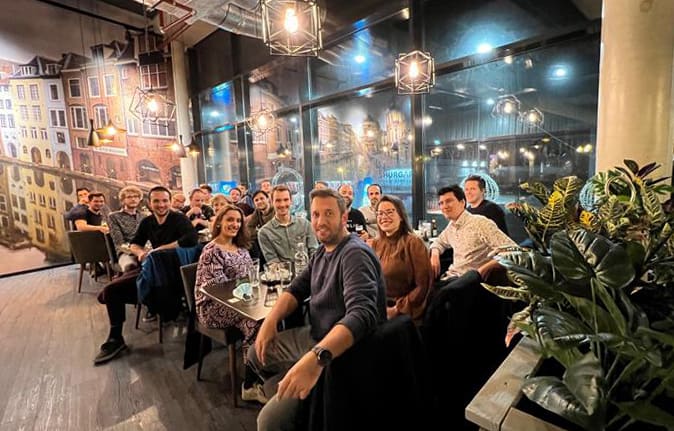 Account Manager in 3D Printing
Utrecht

,

Utrecht

,

Netherlands

Sales
Core Values
Our unique values are at the heart of everything we do, and how we do it. They shape our culture, influence who we are, and even, who we hire. They represent what we stand for and will continue to as we grow.
Job description
Do you thrive on finding solutions and love to connect with people? Are you passionate about innovation and want to help our clients unlock their full potential? If you're ready to unleash the future of technology in the cutting-edge field of 3D printing, then we have the perfect opportunity for you! We're looking for an Account Manager to join our team at 3devo, where you'll work on innovative projects and help our clients succeed.
As an Account Manager, you'll be a key player on our team, collaborating with experts to deliver innovative solutions that help our clients achieve their goals. From building and maintaining strong relationships with our clients to driving sales growth, you'll be at the forefront of our mission to unlock the full potential of 3D printing technologies.
3devo is a fast-developing organization in the 3D printing industry. Our sustainable solutions are used by hundreds of international companies and prestigious universities, such as Stanford, MIT, Audi, Bosch, and more. Our mission is to help innovators in the 3D printing industry with sustainable, innovative solutions. You have the opportunity to be part of our mission! Supported by a new round of investments, 3devo is on its way to scale up to new heights.
If you're ready to take the next step in your career and join a dynamic team of innovators, apply today and let's unlock the future of 3D printing together!
Job requirements
Job responsibilities:
Connect with customers through friendly interactions and share your passion for what we do and what we can offer
Build positive relationships with customers and go the extra mile to ensure satisfaction
Be responsive and proactive in resolving any customer issues that arise
Reach sales goals, collaborating effectively with team members and departments
Embrace feedback and continuously improve yourself personally and professionally
Incorporate unique perspectives and practices from diverse cultures and industries into your sales approach
Take on new challenges enthusiastically and seek out opportunities to learn and grow
Connect with people from all backgrounds and personalities and make them feel valued
Approach challenges with a positive and creative can-do attitude
Can you relate to this?

You're a dedicated and persevering individual who's always eager to learn new things and take on new challenges

You have a gift for making connections with people from all walks of life, even those who might be a bit shy or reserved
You're all about personal growth and development and you're constantly striving to become the best version of yourself
You're a self-starter who values independence and freedom in your work, but you're also responsible and accountable
You recognize yourself in the following:
Fluent in English (French and/or Spanish is a big plus)
Understanding of sales performance metrics
Great organizational skills
Excellent communication skills, written and verbal (client focused)
Availability to travel worldwide
This is what you're looking for in a job:
Innovative company with a growing positive impact
Place to grow and develop yourself through specializations and training courses
Amazing playful workplace with every day fresh fruits, nuts, snacks, drinks and weekly Thirsty Thursdays
Legendary annual team weekend, quarterly fun theme events
25 leave days , as long as you promise to come back ;)
Travel allowance and pension plan
Salary :)
Like what you see? You can join us! Our simple hiring process:

Apply! Go for it!
15-minute speed conversation
On-site interview 
Half-a-day experience with the 3devo Team at our office :)
Hired!
*Applications from freelancers, employment agencies, and recruitment agencies will not be appreciated.